Fashion these days seems more and more impractical, almost like you have to decide what you want to be (fashionable or functionable) according to what you may do. If I'm going to work then I may need to have a purse/handbag or briefcase that can hold my laptop, keys, phone and paperwork; If I'm going out, I get a handbag that can barely fit my iPhone, but it looks good and cost me two entire paychecks. I don't know about you, but I'm not rich so I can't afford to have separate bags; so what kind of bag can I get that will hold all the things I need during the day, but can also look fashionable for when I'm not working? I know what you're thinking, why not get a cheap bag for work and a more expensive bag for the days/nights when you're not at work? Sounds easy enough–practical even, but who hasn't had that moment when you're either leaving from or going to work and you're walking and you feel a snap on your shoulder, you stop walking cause you can't believe it and if you're lucky your reflexes are on point and you were able to catch the bag before it fell to the ground or you're not so lucky and you're in the middle of the street trying to pick up the many contents of your bag; wishing that you didn't go to that chain store and bought that bag that boasts how many things can fit in it. The bag might of cost you 50 dollars, or maybe (if you are from NYC) you bought the bag from the street vendor for 30 dollars either way same outcome, not only are you mortified but now you have to go in search of another bag. What if you didn't have to choose between fashion and function? What if you could have a bag that fit everything you need for work with durability, but also has the beauty?
Most fashionistas throughout the most fashionable places in the world agree that the best handbags/purses come from finely crafted Italian leather; in other words, high-end Italian leather made in Italy by the most skilled Italian artisans; who have a passion for fashion, quality and most importantly functionality. The Laurent & Altieri brand believes that handbags should not be divided into two categories (fashion and function); they believe that their bags should be able to take you from work, a lunch date, to a night on the town with confidence and ease. Laurent & Altieri does fashion and function better than anyone else these days; they seem to have the working woman in mind and aim to not only please her with the latest looks but also to grow with her; to make these wonderfully made bags an investment piece, it's why they don't follow trends but create them. When you purchase a bag from Laurent & Altieri, you are purchasing a bag that will go with you throughout the seasons and throughout the years. When you purchase a Laurent & Altieri bag, you're purchasing durability, craftsmanship and beauty. I myself bought a Laurent & Altieri bag; I was tired of bags that broke under the hefty weight of my work, but I also want to be fashionable. I realized what most working women realize, that you have to spend a little more to have better quality, you know the saying, "you get what you pay for." I decided it was time to invest in a proper purse, so I went to a pop-up shop in lower Manhattan for a brand I hadn't yet heard of but I was interested because of the backstory of the two owners of the brand. If you don't know the story please check out the about us section on their web site https://www.laurentaltieri.com. I go to the pop up and I am astonished by the look and smell (if you love leather you know what I'm talking about; real Italian leather has a warm smell to it that's very specific to Italian leather. You can't fake that smell) of the pieces and their construction. I walked around the room and felt like this brand was speaking to me and my wants and needs, they really cared; as I continued around this room, I saw a beautiful bag that seemed to be made just for me; it had the room that I needed but it had the beauty that I craved. The bag was called La Gioconda; this bag married function and style so effortlessly that there was no way I was leaving this pop-up shop without it. It was a briefcase and a hand bag all at the same time: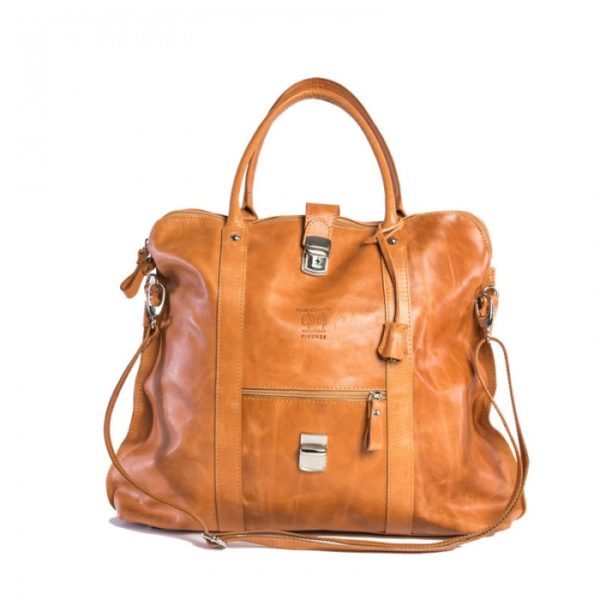 In its largest state it can hold my 15 inch laptop, my notebook, wallet and iPhone Plus and also folds on itself to become a handbag. I go to the check out and the bag costs me $595.00 hefty price yes but for the same quality at the more established luxury brands you could be looking at thousands of dollars instead. What should also be mentioned is that the Laurent & Altieri brand has an unofficial motto that is very apparent when you purchase from them: luxury shouldn't be limited, it should be accessible to all and that is evident with their price points; certainly it isn't a cheap brand, it can't be with the quality, dedication and attention to details brought to each piece by these Italian artisans; but given all the same attributes to a more known luxe brand you're talking in the high thousands for the same pieces. I bought the bag almost 3 years ago and it still looks brand new, the leather has gotten suppler without losing any of the original sheen. I have been able to do what every working woman has tried to do since the dawn of time. I was able to by a luxe bag that can not only take me from day to night, but can also take me from season to season and year to year without sacrificing fashion for functionality.
By Sabeme Elisma
Check Some of Our Videos
Check Our Best Selling Bag comparison
| | | | |
| --- | --- | --- | --- |
| DESCRIPTION | PICCOLA MADONNA ON THE ROCKS | LA GIOCONDA | ARTEMISIA "IL FIORE" |
| Images | | | |
| Material | Genuine Italian Leather | Genuine Italian Leather | Made in Italy |
| Dimensions | Height 30.5cm; Width (base)15.25cm; Length 23cm | Height 38cm; Width (base)37cm; Length 43cm | 21 inches in Length, 12 inches in Height and 11 inches in Width |
| Drop length | 23cm; Center Width Zipped 33cm; Width Unzipped 43cm | 48 cm | |
| Size | Small | N/A | |
| Colors | Black with orange inserts | Tan | Red |
| Function | Handbag; Shoulder bag; Personal items | Briefcase; Handbag; Personal items | |
| | | | |